Holiday Class – ScratchThinker Coding For Kids Beginner 
FOR AGES 8 AND ABOVE
Level - Beginner to Intermediate
Suitable for beginners and young learners with minimal background in coding
2019 School Holiday Classes
Year-End: Nov 18 – Dec 22
Do the difficult things while they are easy and do the great things while they are small. – Lao Tzu
Class Structure
4-Day Holiday Class
Weekly Term Classes Available for Follow-up
Small Class Size
Max. 6 Students
to 1 Instructor
(Min. 2 to start a class)
Location
Computhink Kids
203, Hougang St 21
#01-83, S530203
Equipment
Laptops will be provided.  CodeBook + Notes will be provided.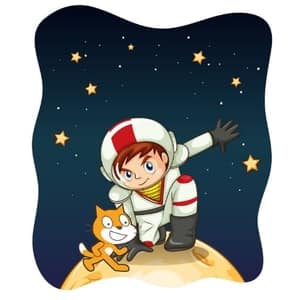 Nov - Dec Holiday Classes
Nov 18 to Dec 19
4-Day Camp
Coding For Beginners L1 (Age 8 - 9)
Monday to Thursday (AM)
Wk 1A: NOV-18, 19, 20, 21 (9 am to 12 pm) (sold out!)
Wk 2A: NOV-25, 26, 27, 28 (9 am to 12 pm) (sold out!)
Wk 3A: DEC-2, 3, 4, 5 (9 am to 12 pm) (sold out!)
Wk 4A: DEC-9, 10, 11, 12 (9 am to 12 pm) (Last slot!)
Wk 5A: DEC-16, 17, 18, 19 (9 am to 12 pm)

Coding For Beginners L2 (Age 10 - 11)
Monday to Thursday (PM)
Wk 2B: NOV-25, 26, 27, 28 (1 pm to 4 pm) (sold out!)
Wk 4B: DEC-9, 10, 11, 12 (1 pm to 4 pm) (sold out!)
Wk 5B: DEC-16, 17, 18, 19 (1 pm to 4 pm)
- Last updated: 2019 Nov-28 -
Sign up before Dec-16 and enjoy an 8% discount!
Here's what your child will experience in the term classes:
Learn what is coding and how it can help train your child's logical thinking.
Experience how a programmer codes and how programs are created and tested.
Learn basic to advanced programming concepts such as code sequences, loops, conditionals, variable types, functions and more!
Code their very own game and animation projects and bring them home.
Be guided by our experienced programmer trainer (MOE-registered) throughout.
Attending the ScratchThinker classes will help your child to:
Experience what programming is, and how it is used professionally to solve problems and create solutions.
Encourage your child to want to learn how things work and develop a creator mindset.
Discover if your child has a talent for programming, and encourage them to specialise their talents in technology.
Inspire your child to want to learn more and create their own game and animation programs!
The 4-day holiday class is a class to introduce your child to the exciting world of coding and programming! Further on, they can sign up to our regular term classes.
The term classes are structured to be delivered over 40 lessons (16 lessons per term) so that kids who are just beginning to learn how to code may have the initial close guidance and support for them to continue their learning journey.

Day 1: Introduction to Scratch Coding
Learn why coding and Computational Thinking is useful.
Learn about Code Sequences and Loops.

Day 2: Conditional Logic
Making decisions in code with conditions.
Using both Conditions and Loops for projects.

Day 3: Data Variables and Computer Memory
Learning about data variables (it's a bit like algebra!).
Using data variables in calculations and projects.

Day 4: Operators and Project Planning
Learn about mathematical and comparison operators.
Learn to plan, design and code a final project.
Now is the best time to let your child have a head start in programming!
Sign up early for holiday classes and enjoy great discounts off class fees!
Not sure if this class is suitable for your child? Contact us via web-chat below, or WhatsApp us at +65 8858 6173
Send us a Whatsapp
What Our Students Are Saying
"I liked learning different coding short cuts that I didn't know about."
"It is fun and creative! I created the 'pong' game and the 'maze'."
"I created the 'bouncy ball' and the 'shark and fish' games in the class. The instructor is clear and helpful. He is kind also."
Item1
What is Scratch Programming?
Scratch is a programming language that is based on visual blocks. Kids can drag and drop code blocks and join them together to create and share interactive media such as stories, mini-games, and animations. Scratch is also an online community and kids can share their creation with people from all over the world.
As kids create with Scratch, they learn to think creatively, work collaboratively, and reason systematically, which are all essential 21st century skills they must inculcate. Scratch is developed by the Lifelong Kindergarten Group at the MIT Media Lab. See http://scratch.mit.edu.
What is Scratch good for?
Scratch is an ideal programming language for kids to create and share interactive media such as stories, games, and animations. Scratch helps kids express their creativity, work collaboratively and think systematically in order to solve problems in code.
Besides the ease of learning a programming language, Scratch is also an active online community of kids all around the world learning and creating programs. Projects created are shared publicly, and aspiring coders can browse other student's projects, view the code behind and even modify other student's code.
How does attending the Beginner Scratch class help in laying the foundation for my kid's future?
Developments in the fields of Artificial Intelligence, Mobile Connectivity, Big Data, and the Internet of Things, have raised the collective capabilities of these technologies and combined them into networked services that would soon render a number our current skill-sets obsolete. It used to be thought that computers and machines will only be able to replace jobs which are repetitive in nature, however, it is estimated that 40-60% of jobs will soon be replaceable by computers.
The ability to understand and write computer programmess will empower your kid with the skills to navigate, understand and perhaps create this computational future. In whichever profession that your kid may enter in the future, it is certain that programming and logical thinking skills would be a key part of it.