Holiday Python Programming For Beginner Kids
FOR AGES 11 AND ABOVE
Level - Beginner
Suitable for beginners and young learners with minimal background in coding
2019 School Holiday Classes
Year-End: Classes available every week from Nov-4th
Somewhere, something incredible is waiting to be known. – Carl Sagan
Class Structure
4-Day Holiday Class
Weekly Term Classes Available for Follow-up
Small Class Size
Max. 6 Students
to 1 Instructor
(Min. 2 to start a class)
Location
Computhink Kids
203, Hougang St 21
#01-83, S530203
Equipment
Laptops and Computhink CodeBook will be provided. Minecraft accounts will be provided during the class.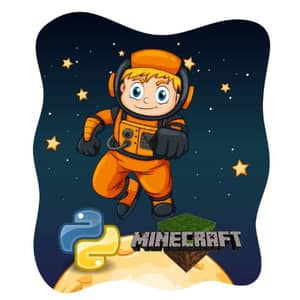 Python Coding for Beginners
Year-End Holiday Classes
Nov-4 to Dec-19
4-Day Camp (Mon – Thu)
Wk5: November 25, 26, 27, 28
Wk5A: 9.00am to 12.00pm (sold out!)
Wk5B: 1.00pm to 4.00pm (sold out!)
Wk6: December 2, 3, 4, 5
Wk6A: 9.00am to 12.00pm (sold out!)
Wk6B: 1.00pm to 4.00pm (last slot!)
Wk7: December 9, 10, 11, 12
Wk7A: 9.00am to 12.00pm (sold out!)
Wk7B: 1.00pm to 4.00pm (filling fast!)
Wk8: December 16, 17, 18, 19
Wk8A: 9.00am to 12.00pm (filling fast!)
Wk8B: 1.00pm to 4.00pm (filling fast!)
– Last updated: 2019 Nov-28 –
Sign up before Dec-16th and enjoy an 8% discount!
What Our Students Are Saying
"I liked learning different coding short cuts that I didn't know about."
"It is fun and creative! I created the 'pong' game and the 'maze'."
"I created the 'bouncy ball' and the 'shark and fish' games in the class. The instructor is clear and helpful. He is kind also."
Here's what your child will experience in the term classes:
Learn what Python Programming is, and how to write, test, edit and run Python Programs.
Learn to write Python Code to control blocks in Minecraft. Students can create their own programs.
Learn basic to advanced Python Programming Concepts and Syntax such as variable types, conditionals, loops, function and more.
Daily Programming Exercises and Challenges.
Be guided by our experienced programmer trainer (MOE-registered) throughout.
Attending the PythonThinker classes will help your child to:
Experience what Python programming is, and how it is used professionally to solve problems and create solutions.
Encourage your child to develop a creator mindset who is resilient in finding solutions to problems.
Discover if your child has a talent for programming, and encourage them to specialise their skills in technology.
Inspire your child to be a future technologist and entrepreneur and solve real-world problems!
The PythonThinker class is designed for kids age 11 and above.
The 4-day holiday class will introduce your child to the exciting world of coding and programming! Further on, they can sign up to our regular term classes.
The term classes is structured to be delivered over 40 lessons (16 lessons per term) so that kids who are just beginning to learn how to code may have the initial close guidance and support for them to continue their learning journey.

Day 1: Introduction to Python Programming
Learn python language syntax, and how to run python programs.
Learn the Python Minecraft API and how to build and teleport using Python codes.

Day 2: Coding Inputs and Type Casting
Learn about input() functions and string and integer data types.
Learn about how to write a for loop to repeat code.

Day 3: Understand looping with for-loops
Learn about for loops, and how for-loops can be used in codes.
Building in Minecraft with for-loops.

Day 4: Boolean values and Conditional Statements
Learn about Boolean values and if-else statements.
Learn to plan, design and write code to build structures in Minecraft.
Now is the best time to let your child have a head start in programming!
Sign up early for holiday classes and enjoy great discounts off class fees!
Not sure if this class is suitable for your child? Contact us via web-chat below, or WhatsApp us at +65 8858 6173
Send us a Whatsapp
Item1
Why learn Python Programming with Minecraft?
We believe that the best way to learn is when the student is self-motivated to complete certain tasks that they are interested in. We use Minecraft as the environment for students to practice their code, but the focus is always on the programming. As we always say in class, "Show me your code."
In the PythonThinker Programming with Minecraft Class, students learn computational and programming concepts with Python® and use these skills to build big structures in Minecraft such as a house with a swimming pool, or a high tower surrounded by a flowing lava moat in just a few seconds and with just a few lines of code! By learning how to write programs in Python and applying it in Minecraft, your child will learn a new skill while having absolute fun in Minecraft!
What is Python?
Python® is one of the most frequently used programming language in the world (top 10 programming language in 2016). Python's syntax is simple, clear and very closely resembles the English Language which makes it very suitable for young programmers to learn.
Note: "Python" and the Python logos are trademarks or registered trademarks of the Python Software Foundation, used by Computhink with permission from the Foundation.
Is there any pre-requisite for this class
Although this is a class for beginners, it is preferable your kid has some programming background (e.g. in Scratch or other platforms).
In terms of equipment, we will provide a laptop for each kid to work on, with Minecraft ids provided for use during the class.