2021 Holiday Camps:
RoboMaker Junior Legobotics 4-Day Camp
Suitable for Kids Ages 5 to 7
Beginner-Friendly LEGO Robotics Coding Camp
Learn to Code with Daily Coding Exercises and Projects
Do the difficult things while they are easy and do the great things while they are small. – Lao Tzu
Class Structure
4-Day Holiday Camp
3-Hours/Day
Beginner-Friendly
Small Class Size
Max. 5 Students
to 1 Instructor
(Min. 2 to start a class)
Location
Onsite Class – Computhink@TPYLibrary
Equipment
Laptops & equipment will be provided for students
At Computhink, we believe that the best way to learn to program is to learn it the fun way! The coding activities that students do while they learn must make sense and be relevant to our students so that they will want to learn how to do it.
Using the popular LEGO WeDO system, kids will learn to build LEGO models and bring them to life. Joining this camp will help spark the interest in robotics and computational thinking, and inspire students to want to try out their newfound skills. Students will learn the basics of coding and help them gain essential Computational Thinking skills. 

Day 1 - Introduction to LEGO Wedo 2.0
Introduction to LEGO Wedo 2.0 Robotics.

Build and Program a Robot with Sensors.

Day 2 - Sensors & Detection
Build and Program a Smart Obstacle Detection Robot.

Day 3 - Machines & Mechanics
Build and Program walking Robots with different mechanical structures.

Day 4 - Sensors & Mechanics All In!
Build and Program animals that can open and close their mouths using Sensors.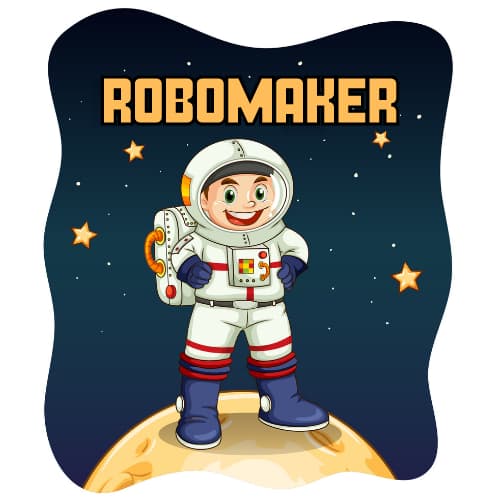 RoboMaker Junior
For Ages 5 to 7
Nov 29th – Dec 2nd 2021
Camp Slots
4-Day Camp, 3 Hours/Day (Monday – Thursday)
Step 1: Choose a Camp
Camp 1. Nov 29 – Dec 2

Step 2: Choose a Slot
Slot A. 9

.30 am – 12.30 am (Onsite)

Slot B. 1

.30 pm – 4.30 pm (Onsite)
$480
(10% off!)
$432
*Use code perfect10 upon checkout.
Have questions?
Send us a message via Whatsapp
The RoboMaker Junior 4-Day Holiday Camp is a specially curated camp for the School Holidays. We want to help engage children in a challenging and fun way during their holidays.
On each day of the camp, students will be taught new programming concepts, and practice how to apply them in their daily coding challenges. Students will be grouped into classes with similar ages and capabilities. Class sizes are kept small at 5 students per class to ensure teachers can spend time helping individual students.

1. Computhink Student Portal
Computhink Student Portal is Computhink's proprietary system for our student's learning needs, where students will log in every day, and find notes, exercises, short videos, and video recordings explaining concepts for the day.

2. Small Classroom Size
We maintain a small classroom size of Max 5 Students: 1 Instructor to ensure every student receives the attention they need.

3. Practical - Based Learning
On each day of the camp, students will be taught new programming concepts, and practice how to apply them in  coding challenges.

4. Challenges and Assessments
Students will be given coding challenges throughout their 4 days to test their understanding. Our lessons are enquiry based to help your child learn better.
Here's what your child will experience in the RoboMaker Junior Camp:
Learn the fundamentals of engineering and machines as they explore and visualise real-world problems and solve them.
Hands-on and tactile learning experience where your child is encouraged to experiment with new ideas.
Learn and expose your child to STEM concepts and how they can be used to solve problems.
Discover an "I Can Do It" mindset.
Attending the RoboMaker Junior Camp will help your child to:
Think creatively and allows students to interact, think and brainstorm different ways to solve a problem.
Build self-confidence, perseverance and resilience. Creating solutions can be a complex and difficult process.
Develop teamwork, communication and co-operative skills as they work collaboratively with their friends and verbalize their ideas.
Enhance your child's concentration and attention levels with hands-on learning activities.
Prepare for their future. STEM skillsets are extremely important for students as they prepare to enter the 21st-century workforce.
Let your child learn a skill or two this school holidays!
Sign up early and enjoy our early bird prices!
Not sure if this class is suitable for your child? Contact us via web-chat below, or WhatsApp/Telegram us at +65 8858 6173
whatsapp chat
telegram chat
What Our Students Are Saying
"Thanks alot for delivering the class in a very interesting manner, my kid is able to follow the class very well. She is going to explore Scratch further and has requested to join the holiday programme. This is definitely a very good exposure, thanks for the impressive introduction!"
"Many thanks for the opportunity. My child enjoyed Robotics class. I understand he is young but just aim to ignite the spark of interest in his mind. Shall look forward for more sessions once he is a bit grown up"
"Really good class today! My boy was so absorbed and learnt so much. He really loved it. I've recommended Computhink to one of his friends to consider joining"
Item1
Is there any pre-requisites for joining this camp?
This camp is suitable for beginners and no prior programming experience is required.
What do I need to prepare for the camp?
For physical classes at Computhink Kids's Centre at Toa Payoh Public Library, laptops and all equipment will be provided for students. You may bring along a jacket and water for your child.
How many students are there in a class?
We maintain a small classroom size of maximum 5 students : 1 instructor for the best learning experience for your child.
Does my child need to attend the same time slot for each day?
Yes, students will have to attend the same time slot for every day of the 8-day camp.
Will there be any make up classes provided if my child miss a class?
We do not provide make up sessions, however, we do provide the class recordings and materials for any missed classes.