"Do the difficult things while they are easy and do the great things while they are small."
Small Class Size
Small & Individualised Learning
(Min. 2 to start a class)
Location
Onsite Workshop
Computhink@ToaPayohLibrary
Equipment
Onsite Workshops: Laptops & Lego Spike Prime sets will be provided. (2 students to 1 set)
2023 H
oliday
s:
RoboThinker Build Challenges
Discover the worlds of space and the animal kingdom in our combined 3-hour LEGO Robotics workshops for kids aged 7-12. In Space Explorers, young astronauts build and program Mars Rovers to navigate a simulated Martian landscape. In Animal Adventures, children create animal-inspired robots, mimicking unique movements for a thrilling race. These fun and interactive workshops inspire curiosity, problem-solving, and teamwork. Sign up now to unleash your child's creativity! Increase your DSA chances with Coding Portfolio.
2023 Mid-Year Holidays
3 June 2023 – 24 June 2023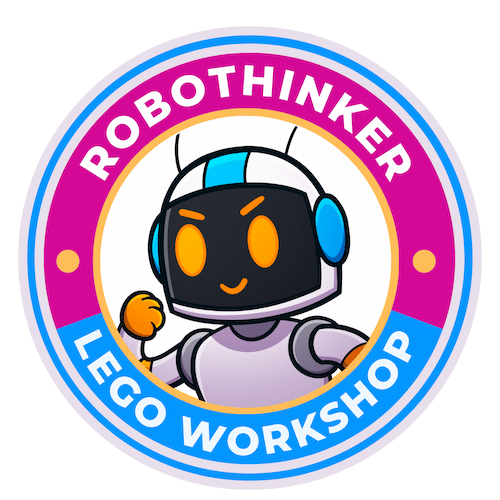 Lego Build Challenges
For Ages 7 to 12
Suitable for Beginners and Current Students
Workshop Challenge Slots
Duration: 3-Hours
There are 2 Lego Spike Prime Challenges:
Challenge A. Space Explorer 

Reach for the Stars: Unleash Your Inner Astronaut with LEGO Robotics!

Challenge B. Animal Adventurer

Creatures & Creations: Bring the Animal Kingdom to Life with LEGO Robotics!
Each workshop is modular and standalone, and you can choose to attend one or attend both workshops.
---
Challenge A: Space Explorer
---
Challenge B: Animal Adventurer
You can only attend this class Onsite
*Onsite Classes will be held at our centre located at Toa Payoh Library (Side Entrance)
---
Have questions?
Send us a message via Whatsapp
Group Savings Bonanza!
More kids, more savings! Join our coding camp or workshops with a friend or sibling, and you'll unlock a 10% group discount.
Click on "WhatsApp Chat" for the discount code!
Welcome to the world of LEGO Robotics with our Space Explorers and Animal Adventures workshops, designed for kids aged 7-12. These fun and interactive workshops promote creativity, problem-solving, and teamwork, starting with a brief ice-breaker activity to encourage collaboration.
In the Space Explorers workshop, children build and program Mars Rovers using LEGO SPIKE Prime sets. In the Animal Adventures workshop, young engineers create animal-inspired robots to mimic unique movements. Both workshops include an introduction to LEGO SPIKE Prime, hands-on building, programming guidance, and a group challenge to apply newfound skills.
Each workshop concludes with a showcase of creations and reflection on the learning experience. These workshops aim to spark imagination, develop technical skills, and foster a love for robotics and exploration, providing an enriching experience for young learners.
Challenge A: Space Explorers
Introduce LEGO SPIKE Prime & space exploration
Build: Mars Rover (wheeled robot for rough terrain)
Program: Basic commands & movements
Group activity: Navigate simulated Mars surface
Wrap-up: Showcase Mars Rovers
Challenge B: Animal Adventures
Introduce LEGO SPIKE Prime & animal-inspired robotics
Build: Choose animal & create movement-inspired robot
Program: Tailored commands & movements
Group activity: Animal Robot Race (obstacle course)
Wrap-up: Showcase animal robots
In our workshops, students are provided with essential learning tools to ensure a smooth and engaging experience. Each participant receives a laptop, pre-loaded with the necessary software for programming their LEGO robots. The laptops allow students to easily create, test, and modify their code throughout the workshop.
Additionally, students are given LEGO SPIKE Prime sets (2 students to share 1 set), which include an assortment of LEGO bricks, motors, sensors, and the SPIKE Prime hub. These sets enable students to build a wide range of robots, from Mars Rovers in the Space Explorers workshop to animal-inspired creations in the Animal Adventures workshop. The versatile SPIKE Prime sets empower young learners to bring their imaginative designs to life and explore the world of robotics in a fun, hands-on way.

1. Computhink Student Portal
All Computhink Students enjoy the use of the Computhink Student Portal.  The Student Portal is similar to the SLS use by MOE schools and is Computhink's proprietary system for our student's learning needs, where students will log in every day, and find notes, exercises, short videos, and video recordings explaining concepts for the day.

2. Student Laptops Provided
Every student will have 1 laptop provided for use. Students will use the laptops to program the robot using Lego Spike App.

3. Lego Spike Prime
Lego Spike Prime sets are provided for students during the workshop. The sets are designed to be shared by 2 students to encourage collaboration and team work. The sets include an assortment of LEGO bricks, motors, sensors and the Spike Prime Hub.

4. Challenges and Assessments
Students will be given close guidance for their coding challenges for their workshops to test their understanding. Our lessons are enquiry based to help your child learn better.
Students will be tested on their understanding via challenges to ensure they are following well.
Here's what your child will experience in the RoboThinker Build Challenge Workshops:
Hands-on Learning: Your child will engage in interactive, hands-on learning activities, as they build and program their unique LEGO robots using SPIKE Prime sets, fostering creativity and problem-solving skills.
STEM Education: The RoboThinker Build Challenge Workshops introduce kids to fundamental concepts in science, technology, engineering, and mathematics (STEM), nurturing their curiosity and laying the foundation for future academic and career success.
Collaboration and Teamwork: Our workshops emphasize teamwork and collaboration, as students work together in groups during activities, encouraging communication, cooperation, and the development of social skills.
Fun and Engaging Environment: The workshops are designed to create a fun and engaging learning atmosphere, ensuring that children enjoy themselves while acquiring new skills and knowledge in robotics and programming.
Confidence Building: By successfully completing the build challenges, your child will gain confidence in their abilities and develop a sense of accomplishment, inspiring them to continue exploring the exciting world of robotics and technology.
Attending the RoboThinker Build Challenge Workshops will help your child to:
Develop Critical Thinking: The RoboThinker Build Challenge Workshops enhance your child's critical thinking and problem-solving abilities as they tackle various robotics challenges, setting them up for success in a rapidly evolving technological world.
Boost Creativity and Innovation: Our workshops encourage children to think outside the box, unleashing their creativity and fostering innovative thinking as they design, build, and program their unique LEGO robots.
Strengthen Technical Skills: Attending the workshops will help your child gain essential technical skills in robotics and programming, equipping them with valuable knowledge that can be applied in various STEM fields.
Cultivate a Love for Learning: The engaging and interactive nature of the workshops sparks a passion for learning, inspiring your child to explore further in the realms of robotics, programming, and STEM subjects.
Item1
Is there any pre-requisites for joining this workshop?
This workshop is suitable for beginners and no prior programming experience is required.
Do I need to prepare anything for this workshop?
Onsite Workshop: Laptops and LEGO Spike Prime Sets (2 students to 1 set) will be provided for students attending our onsite classes. You may bring along a jacket and a water bottle for your child.
Do you provide a certificate upon completion of this workshop?
We provide every student with a certificate of completion at the end of the workshop.