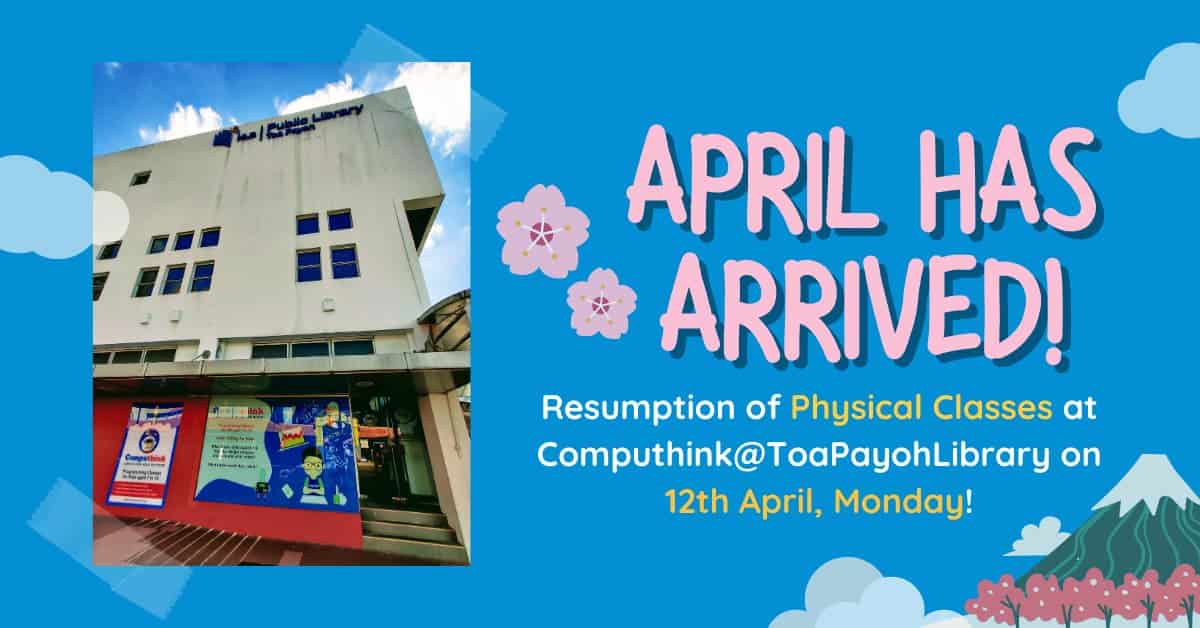 Dear Parents and Computhinker,
It's finally April, and I'm glad to announce that physical classes will resume on the week starting April 12th, Monday!
Resumption of Physical Classes at Computhink@ToaPayohLibrary
Classes will resume at our new centre at:
Computhink@ToaPayohLibrary
6, Toa Payoh Central, S319191
(Toa Payoh Library side entrance – Find us on Google Maps)
Sneak peak at our new centre in the above image! 😉
What This Means:
From April 12th, if your child would like to attend classes at Computhink@ToaPayohLibrary, they can!

Laptops will be provided at our centre, your child will only need to bring a jacket, a water bottle and their Code-Book (or any notebook)
Please inform us if you would like to come down to the Centre to attend physical classes.

Can your child continue with online classes? Yes, you can! Online classes will always remain available, and we plan to support both physical and online classes. So if you prefer to attend lessons online, you can continue as per normal!
All lessons (whether physical or online) will continue to be recorded, and students will still have access to StudentWeb and all online resources as before.
We're excited to welcome all parents and students to our new Centre! This past year of operating online remotely certainly has had its challenges. A big Thank You to all parents and students for your support! 🥰
Queries/Feedback
Do let us know if you have any feedback for us and feel free to reach out if you have any questions.
Until the next monthly update, take care and stay safe! 😄