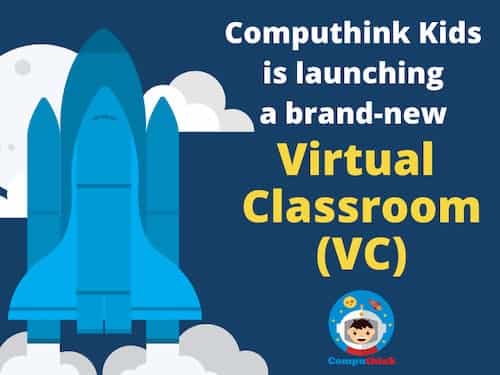 Computhink Kids is pleased to announce that our coding classes have gone online! From now on, students will be able to use our Virtual Classroom Learning Management System to join our Virtual Classroom (VC) live from the comfort of home.
The Virtual Classroom (VC) solution has the following features:
Students can logon via webcam and see the teacher live and ask questions.
Use shared notes, virtual whiteboard, and the live chat to interact with the teacher or students.
Screen-share their own screen to showcase their code, or allow the teacher to see their screen.
All VC sessions are recorded, students can view session recordings to review parts of the lesson after the class.
Do quizzes, submit assignments online and more!
* To note, students can still attend physical classes at Computhink@Kovan. This solution is for students who would prefer to attend classes from home in light of the recent Coronavirus outbreak.
** In case you are wondering, no, this is not just a google hangout 😊
*** All of our current parents and students have access to this system, and we are emailing out the login and account details.
Some things to note
For students who are younger (age below 10), they may need the help of an adult to help them log in and navigate the VC in the beginning.
For students who do not have a suitable laptop to use at home, parents may want to invest in a laptop for your child's long-term learning needs in school

There are several suitable laptops at reasonable budgets (~ $500 – ~$800) that are sufficient for learning needs.
We are in discussions with laptop manufacturers to get a bulk discount code that will give further discounts for parents who want to buy a laptop for their child.
For the best VC experience, make sure that the laptops you buy has a webcam + microphone

If you need advice on which laptop to buy, do email us at classes@computhink.com.sg, we would be happy to share some suitable models
Students will require a stable internet connection to access the VC
Why are we putting our classes online?
Conducting Coding classes online has always been on the back of our mind, but as you can imagine, the recent Coronavirus outbreak has made the implementation of Virtual Classroom more urgent.
In the past weeks, as the situation developed, we have had to postpone weekday or weekend classes. This has been disruptive to our student's learning and to our operations, and you have our sincere apologies.
Since we are after all a Coding School, and we promote the adoption of coding and technology, we thought we should use a technical solution to solve our current problem. Hence, our Virtual Classroom solution was evaluated and deployed 😊
In our pilot run this week, we have conducted the VCs successfully with minimal issues so far. If you have any comments and feedback regarding the VC, do let us know! We are always improving to serve your child's learning needs better.
Enquiries/ Feedback/ Comments?
As always, you can reach us on 8858 6173 (WhatsApp/ call), or send an email to classes@computhink.com.sg with your queries.