Exciting June Holiday Coding Camps & Workshops for Kids
Fun Learning here at Computhink! Recommended for ages 7 to 16
Camps/ Workshops for Age 7 – 12
ScratchThinker 4-day camp
Minecraft CodeThinker 4-day camp
RoboThinker 4-day camp (Lego Robotics)
Minecraft CodeThinker 1-Day workshop
RoboThinker 1-day workshop (Lego Robotics)
Camps/ Workshops for Age 12 – 16
PythonThinker 4-day camp
Roblox Lua CodeThinker 4-day camp
Age 7 to 12
Age 12 - 16
Do the difficult things while they are easy and do the great things while they are small. – Lao Tzu
Class Structure
4-Day Camp /Or
1-Day Workshop
3-Hours / Day
Small Class Size
Max. 8 Students
to 1 Code Mentor
(Min. 2 to start a class)
Equipment
Laptops will be provided for on-site students during their class
June Holiday Workshops and Camps
May-29 to Jun-24
---
Scratch Coding Camp
Recommended For Ages 7 – 12
Discover the world of Scratch coding for kids aged 7-12 at Singapore's premier coding school, Computhink. Spark their coding passion and develop computational thinking as they create games and animations in our fun-filled Scratch Coding Camps and workshops. Help your child master coding basics while nurturing their creativity and problem-solving skills during Computhink's holiday classes, where challenges and excitement go hand in hand. Increase your DSA chances with Coding Portfolio.
Minecraft Coding Camp
Recommended For Ages 7 – 12
Unleash your child's coding potential with Computhink's Minecraft Coding Camp, designed for kids aged 7-12. Embark on an adventure-filled journey as they learn coding skills through exciting Minecraft challenges in our engaging and fun-filled camp. Don't miss out – enroll now! Increase your DSA chances with Coding Portfolio.
RoboThinker Coding Camp
Recommended For Ages 7 – 12
Introducing RoboThinker, an exciting 4-day LEGO robotics camp designed for kids aged 7-12. This immersive experience allows budding engineers to dive into the world of robotics, building their own unique creations using LEGO SPIKE Prime. Students will not only enjoy constructing their robots but also learn to code them, fostering an early passion for STEM and helping them develop critical thinking and problem-solving skills. Increase your DSA chances with Robotics Portfolio.
Minecraft Build Challenges
Recommended For Ages 7 – 12
Discover the joy of coding at our 1-day Minecraft workshops for ages 7-12 at Computhink. With engaging challenges for beginners to intermediates, kids can choose from themed challenges like Roller Coaster, Castle Defense, Redstone Circuits, and Smart Castle. Unleash their coding potential while having fun, and develop essential coding skills through interactive and immersive Minecraft experiences. Enroll now and inspire their creativity! Increase your DSA chances with Coding Portfolio.
RoboThinker Workshops
Recommended For Ages 7 – 12
Discover the worlds of space and the animal kingdom in our combined 3-hour LEGO Robotics workshops for kids aged 7-12. In Space Explorers, young astronauts build and program Mars Rovers to navigate a simulated Martian landscape. In Animal Adventures, children create animal-inspired robots, mimicking unique movements for a thrilling race. These fun and interactive workshops inspire curiosity, problem-solving, and teamwork. Sign up now to unleash your child's creativity! Increase your DSA chances with Coding Portfolio.
Python & Minecraft Coding Camp
Recommended For Ages 12 – 16
Elevate your teen's coding abilities and boost their O'Level success with Computhink's Python Minecraft Camp for ages 12-16. Dive into the world of computational thinking and Python programming through our engaging and entertaining camp experience. Unleash their passion for coding and level up their learning during the holidays with Singapore's top Python classes at Computhink. Increase your DSA chances with Coding Portfolio.
Roblox Coding Camp
Recommended For Ages 12 – 16
Unleash your child's game creation potential at Computhink's Roblox Lua Camp for ages 12-16. Transform their Roblox passion into a skill, learning Lua programming, 3D design, and computational thinking during MOE School Holidays. Our fun and engaging camp helps your child transition from playing to designing games, fostering creativity and problem-solving skills in an immersive Roblox environment. Increase your DSA chances with Coding Portfolio.
The Computhinker Experience
Here's what your child will experience as a Regular Weekly Computhink Student:
Assessment Reports
Students will be tested & graded every semester with their progress recorded in a Student Report.
Hands On Programming
Focus on learning syntax, and algorithms and create games, animations, and real-world programs.
Extensively Researched and Updated Curriculum
10 CodeThinker Levels with over 300+ Topics from Block-Based to Text-Based Programming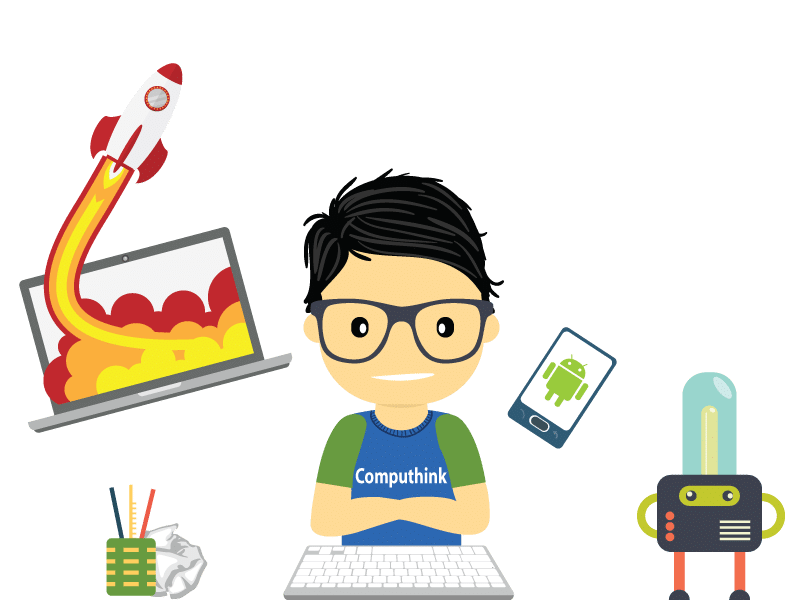 Parent Consultation
Discuss with our experts for the best coding experience for your child, and the latest in programming education and industry trends.
Safe & Welcoming Environment
Small class setting for effective learning in a safe, inclusive and welcoming environment.
Project Portfolio and Showcase
Showcase Exciting and Fun Projects in your Project Portfolio
Find the Perfect Coding Camp for Your Child
Let our Code Mentors guide you to the ideal camp for your child's learning journey.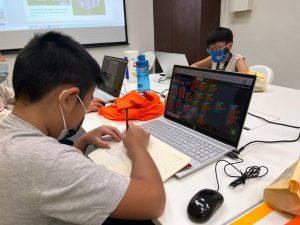 Step 1: Register for Assessment
During the complimentary Assessment, we will learn more about your child's experience, capability and aptitude with an assessment. The assessment is conducted onsite at Computhink@ToaPayohLibrary.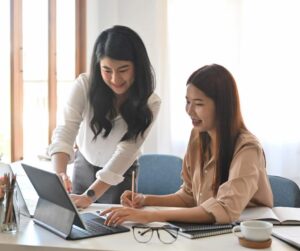 Step 2: Consult with our Code Mentors
Meet our experienced Code Mentors for a personalized consultation to discuss your child's learning needs and goals. We'll walk you through how coding classes are conducted, and our curriculum design principles and answer any queries you may have.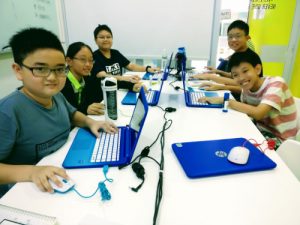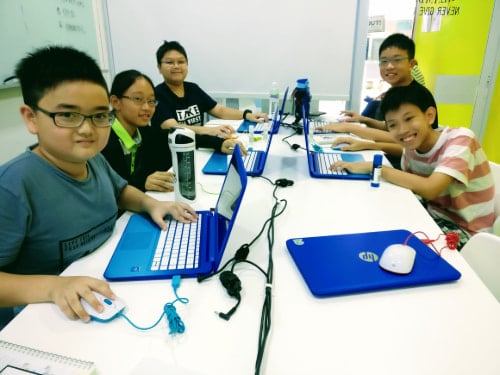 Step 3: Choose a Camp and Time Slot
Select the most suitable coding camp and convenient day/time slots for your child's unique learning experience. 
Item1
What does my child need for the classes?
Laptops and Robotic Kits (for RoboThinker camps) will be provided to students in our physical classes. Students are advised to bring a water bottle and a jacket.
What is the Student Web Portal and what can it be used for?
Every student will have access to our Student Portal (similar to SLS), where they can review class recordings, download lesson notes, access assignments/quizzes, review assignment grades, keep track of their progress and more.
What is your cancellation/refund policy?
We believe that a small class size is integral to your child's learning to maximise the learning experience. Seats are limited and we greatly value each and every seat that we offer. If you cancel or withdraw from any of our classes:
For withdrawals from short Workshops / Camps:

We will make a 100% refund (minus any relevant charges) if you withdraw your enrolment 7 days before the start of your first class.
For withdrawals within 7 days to the start of the class, your balance fees will be pro-rated and converted to Class Credits.
What is your make-up class policy?
Students are reminded that it is their responsibility to plan their schedules accordingly to ensure that they attend class punctually:
Each class in Computhink (Online or Onsite) is recorded. Students who miss their classes should review their lessons in the student portal. Subject to the availability of our teachers, students can request to join the class 15-mins earlier in the next scheduled class to ask questions or clarify doubts from the class recording.
In the event that the student fails to attend a class, the Centre may at its sole discretion, allow the student to make-up the missed lesson by attending another on-going class within the same Centre during the same academic week (i.e. from Monday to Sunday), provided that:

there is more than 1 class of the same level;
there is a vacancy in the class that the student intends to attend as the make-up class;
the make-up class is requested at least 2 weeks in advance;
due to scheduling conflicts and class size restrictions, there may be no suitable class at a suitable timing. In the event that it is not possible to arrange a make-up class due to no vacancy in other class(es), course fees should not be refunded or pro-rated.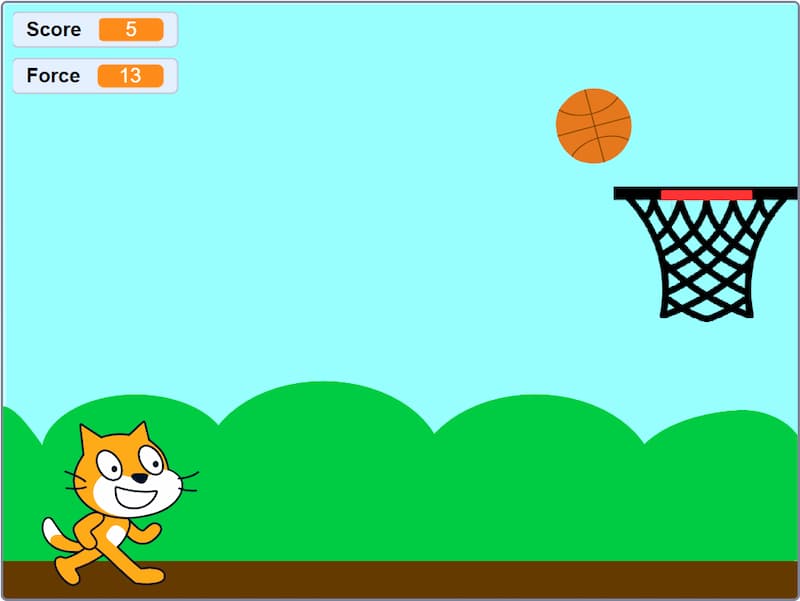 Project Gallery
Visit the Project Gallery!
Browse through a collection of projects that were completed by our students, who have developed a wide range of skills and showcase their talents through these projects.